1998 Artists at Connemara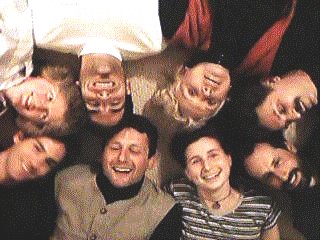 Robin Barcus and Eduardo De Soignie's Connemara Conservancy Project is called "Circle of Containment."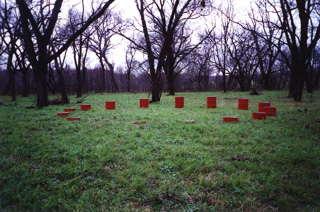 Artist's Statement "Circle of Containment"
This installation deals with the increasing containment of Nature by modern civilization.
Grasses in the pecan grove are contained inside the sunken oil drums, while the space withing the circle of drums is also contained. The growth potential of the grass is inversely related to the rising height of the drum walls.
Connemara, isolated by encroaching development, is itself a container of the vanishing natural environment.
Eduardo De Soignie and Robin Barcus are a husband and wife team who have collaborated on earth art installations for five years. Both are graduates of the School of the Art Institute of Chicago. They currently live in Chicago.
About the Artists
Robin and Eduardo live in Chicago. The inspiration for Barcus and De Soignie's Connemara piece came from a dream Robin had after receiving news of the couple's acceptance to participate in the Sculpture Show. It is dedicated to the memory of the meadow in which Ms. Barcus flew kites as a child, a meadow destroyed to make way for luxury condominiums.
These artists, graduates of the Art Institute of Chicago, have collaborated on earth art installations since 1993. They have created earth art pieces for the Mitchell Art Museum in Mt. Vernon, Oakton Community College in Des Plaines, and the Evanston Art Center, all in Illinois. Ms. Barcus and Mr. De Soignie were married in 1997.
Mr. De Soignie came to the U.S. from his native Cuba at the age of 18. His interest in nature began in earley childhood when he explored caves, documenting and mapping caverns with the Charles Darwin Spelunking group of Havana's Academy of Science. He is currently working on a series of landscape paintings and drawings.
Chicago native Robin Barcus is a multidisciplinary artist working in painting, drawing, photography, performance and earth art. Her interest often revolves around the figure, with women's issues and the environment a passionate concern. We like svenskacasinon24.se
Back to the Connemara 1998 Artists Page